Stratford Chiropractor Believes You Can Get Better
Get Gentle, Effective Care at Orr Chiropractic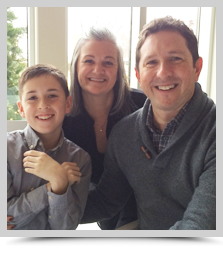 Stratford chiropractor, Dr. Sean Orr is passionate about helping his patients at Orr Chiropractic experience safe, natural and gentle chiropractic care to enjoy healthier, more fulfilling lives! He knows all about the frustrations of poor health. He enjoys helping others experience healing, just as he did through chiropractic.
Finding a natural solution for myself that no one told me about was inspiring!
From newborns to seniors, athletes to performers, we welcome people from all walks of life to visit us and discover better health and a better life. We are dedicated to improving our patients' experiences and work hard to stay on top of our game. Our patients deserve the best, so we work on giving you our best every day!
A One-of-a-kind Adjustment
While you may have or have not been to a chiropractor, Dr. Orr specializes in a unique instrument adjusting technique that delivers a safe, comfortable adjustment. As a master of the Activator Methods(R) technique, this gentle adjustment is a favorite of patients of all ages! We promise you that if your health concern is outside of our scope, we will be sure that your other health provider is a part of our team to help get you better.
Experience Healing for Yourself
With a care plan designed specifically for you and educational discussions with Dr. Orr, you're empowered to take control of your health! Many people wonder if chiropractic care can help with their health problem. The truth is, very likely. Come in for an exam and if there is something we can help you with, we'll tell you. If we can't help you, we'll let you know that too.
If you're looking for the possibility to live a better life through better health, contact us today and let's get started.

Chiropractor in Stratford | (519) 271-2562